Cambridgeshire Bat Carers
In Cambridgeshire we have a small group of volunteer bat carers. They are trained, vaccinated against rabies, and registered with the Bat Conservation Trust (BCT) to ensure the bats get the best care possible, and that all activities are within the law.
Found a Bat?
If you see a bat out during the day, on the ground or that has had an interaction with a cat, it needs help ASAP. Follow the instructions here: Found a Bat? and phone the bat care helpline on 0345 1300 228 or one of the numbers listed on the welcome page. Please don't delay and if the line is busy, do keep trying; the sooner we can get to the bat then the more likely it is that we can help it.
What We Do – "The Three R's"
RESCUE – following a phone call to the bat helpline about a grounded bat, BCT will contact one of the carers to arrange collection or delivery of the bat.
REHAB – after assessment of the bat by the carer, our aim is to provide the necessary care and treatment so that the bat can eventually be released back into the wild. This sometimes involves the assistance of a vet. Unfortunately, on some occasions we will need to euthanize the bat to prevent unnecessary suffering. This is often the case when a bat has been attacked by a cat or when it has been a long time before it was brought in to care.
RELEASE – we aim to release rehabilitated bats at, or near to, the place where the bat was found, so that it is familiar with its environment.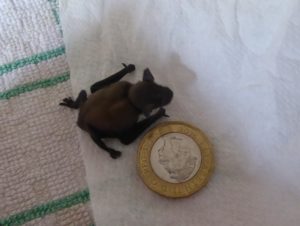 Like most of our local wildlife, our bats are under pressure from environmental changes, including loss of habitat and suitable roosting sites. In addition, many of our casualties are the result of cat attacks. To minimise the threat of cats please follow guidance on the BCT's website: Cat Attacks.
Every bat we can rescue, rehabilitate and release back into the wild is precious and your help and support is much appreciated.